DIMLUX XTREME SERIES 750W LED +NIR
INTRODUCING THE MOST
POWERFUL AND SMART LED
GROW LIGHT ON THE MARKET!
THE DIMLUX XTREME SERIES LED 750W +NIR
PATENTED LED TECHNOLOGY
With this innovative LED fixture, Dimlux sets a benchmark for horticultural lighting. With patented technology, advances in LED technology, and optimal thermal design, the Dimlux Xtreme Series LED will be the preferred option offering significant return on investment to cultivators. The Dimlux Xtreme Series LED produces ultra-high levels of PPFD, evenly spread over a 1.5×1.5 m grow area, with a full grow spectrum, producing consistently high quality & high yield indoor crops. The Dimlux Xtreme Series LED can be dimmed without losing efficiency. The spectrum and output power can be programmed depending on the time of day and the growing stage of the crop. For more detailed information please visit Dimlux LED.
PHYTOVEGSPEC® INDOOR +NIR
Our adjustable PhytoVegSpec® Indoor +NIR grow spectrum combines full control over light quality (spectral flexibility) and quantity (intensity and DLI) ensuring a uniform spread and even light distribution with extreme penetration into the canopy. NIR stands for Near InfraRed spectroscopy, and it refers to the analytical technique of using near-infrared radiation to analyse samples for compositional or characteristic traits. NIR is a region of the electromagnetic spectrum that has unique properties which make it very useful for characterizing materials. The NIR region is from 700 to 2500 nm. Light in this region interacts with OH, NH and CH bonds and certain wavelengths (frequencies) are associated with each bond type.
Specs
Light Output Total (PPF 350-800nm)

PAR Photon Efficacy (400-700nm)

Total Photon Efficacy (350-800nm)

Adjustable PhytoVegSpec® +NIR Indoor

Patented Deep Penetration Ultra High Transmittance Lens

Patented Light Pipe Multi Color 65k

Mounting Height Above Canopy

By Maxi Controller or Internal Controller

Display For Spectrum and GUI

Total Harmonic Distortion (THD)

CE, UL 8800, UL 1598 Wet Location, DLC

833x810x57mm

32.8x31.9x2.2 inch
SPECTRA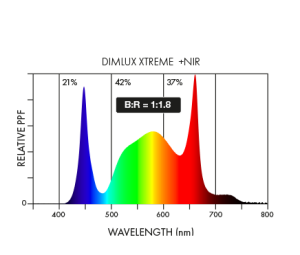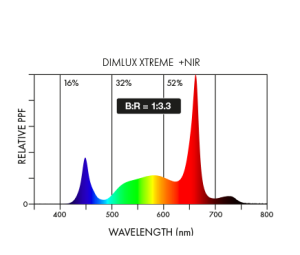 LINEDRAW